Pal introduces: The Wing Load Research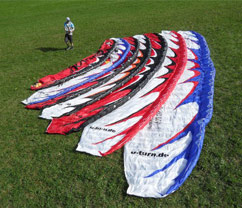 The Wing Load Research is my upcoming investigation to find out the real limits of the
Thriller 2k11
from
U-Turn
which is claimed to be the best acro glider on the market.
I am going to test out the different sizes one by one while flying them on extremely high and low wing loadings, between 3,6 kg/m2 and 7,6 kg/m2 !!! For competitions and shows I normally fly the 17m2 Thriller at a wing loading of around 5.4 kg/m2 with 94 kg take-off weight. U-Turn's chief-designer, Ernst Strobl says with this take-off weight it should be possible to perform Infinity Tumbling even with 26m2, but regarding his theory it might not be the case at all with the 12m2 version, so let's see what happens! Beside that the wing-loading with 12.5m2 will reach way into the "red danger zone" by Strobl's calculation (see file "Table of area loading").
The main goal is of course to perform -almost- all existing maneuvers on the smallest and biggest available sizes of the Thriller. For the safe execution of the project this week I am heading to the Garda Lake in Italy to be able to do the experimentations high over water. Videos to come later on, stay tuned!