Book a spectacular Air-Show for your Event!
Spice up your event and entertain your crowd!
12 years experience in flying airshows worldwide.
Proudly performing at all Red Bull Air-Race World Championship stops since 2014!
Available performances:

Paragliding aerobatics - performing the world's most spectacular acro maneuvers
Paramotor action - aerobatics and low-altitude precision piloting with great flexibility of length and location
B.A.S.E. jump / Wingsuit flight - impressive parachuting demo from any aircraft
For whom?
Sporting events, competitions
Competitions, sporting events
Corporation events, conferences, expos
Festivals, concerts
Parties, birthdays, weddings...
Etc.
Where?
Anywhere, where free-flying is allowed or permission can be organized.
How?
Paragliding: classic mountain launch / start from helicopter, ultralight, hot-air balloon or other suitable aircraft ...
Paramotor: possible to launch from any open field and fly to the event.
BASE jump: from any aircraft
Prices?
Prices highly vary depending on type of event, location, duration, logistics, media presence, availability, etc. Please contact to request further information.
Custom branded paraglider - choose Your logos!
Exclusively branded custom paraglider canopy!
Best brand visibility for your sponsors!
Find examples below and contact for more information!
Contact for more information about custom branding.
References
RedBull Air-Race Series, EuropaPark, Harley-Davidson, RedBull Flugtag, Hahnenkamm Ski World Cup, Fetés du Genéve, RedBull Cliff Diving Series, Nissan Outdoor Games, Coupe Icare Festival, Natural Games, Sonchaux Acro Show, Flypa, El Yelmo, Ölüdeniz AirGames, Lecco Acro Show...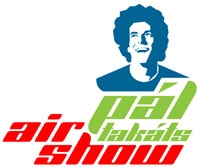 More information and booking
Send a message
Feel free to call +43 664 7512 9998
Download this page as PDF: