about me
Name: Pál Takáts
Birth: 22/03/1985, Budapest, Hungary
Place of home: the Alps
Spoken languages: Hungarian, English, German, Swiss-German, Portuguese, Spanish
Sports: aerobatics & XC flying, paramotor, kite-surfing, BASE jumping, climbing, skiing
Activities air-shows, stunts, unique projects, competitions, film- and photo-shootings, instructing, tandem flying
my story:
Already as a kid I loved to be out in the nature, doing outdoor activities. We often went out hiking with my family. My grandparents had little weekend house up on a mountain with a big cave system inside that inspired made me to start speleology with the age of 14. I spent 4 years with discovering the underground world of caves. In 2001 my attention turned up towards the sky, paragliding. During the beginner course I already knew, it's not just going to be a new hobby but a lot more. As soon as I finished the school in 2003 I dedicated my time to fly as much as possible. At this time I also met Gábor Kézi with a group of young, talented and 'crazy' motivated pilots from Budapest. Despite a few difficulties (little hills, weak conditions no acro pilots to ask from) we started to learn acrobatics: alone, self-educating.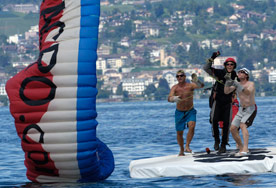 Paragliding quickly became a true passion.
I spent all my money on it and it turned to be lifestyle!
In 2005 we participated in our first acro competitions. To meet with all the legends of the sport and gave huge motivation to continue. From this enthusiasm I created the justACRO.com website which became the biggest online meeting point of the paragliding acro world.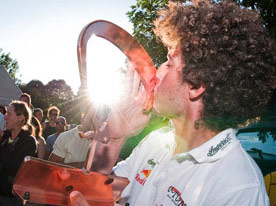 In 2007 I took the overall first place in the solo category of the Acrobatics Paragliding World Cup Series, and climbed to the number 1 position in the Overall World Ranking.

In 2011 I managed to win the season again as well our synchro group called "justACRO Team" became the best team in the World. I invented a couple of new maneuvers in acro (Esfera, Anti-Rythmic, Joker, Cowboy, Cork, etc.), of which the film "Evolution" tells more about.



Between 2006 and 2008 the success story was followed and documented by a film production team. The DVD called 'Adrenaline and Turbulence' was released in 2009 and quickly became a multi-award-winning film on various international film festivals!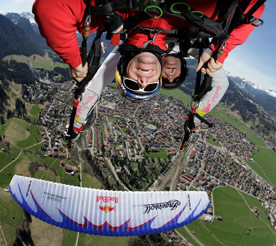 On the 7th of August 2010 in Switzerland an old dream came true when I and Gábor presented the first ever Tandem Infinity Tumbling, flying together on a unique glider designed by U-Turn.
The news-cuts of the World Premier were distributed all over the world and brought all together 113 hours of broadcasting time in televisions.
Later (in October 2010) I made the first ever commercial Infinity tandem flights, sharing this extraordinary experience with inexperienced passengers.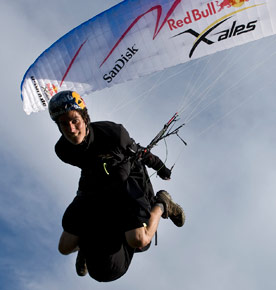 After an ankle injury in 2008 I set a new challenge for myself to participate in the RedBull X-Alps 2009 (the world's hardest paragliding adventure race), where I finished 8th. This showed what most people didn't know that I am also very motivated in cross country flying: I won the XCTurkey open distance contest, participated in my first World Cup in 2011 and the same year broke the Chilean XC record with a 304 km flight, which is so far the longest distance every flown.
Since then flying is my life, constantly extending my own and the sport's limits. At the same time I am also opening to other sports and activities to feed my hunger for new challenges...




press (last update: 2014)
See press appearences here:http://paltakats.com/press


athlete biography:
2021 – Fly-by of the Volcan of fire (Volcán de fuego) in Guatemala.
2019 – 3rd place in the Paragliding World Cup, Argentina.
2018 – Release of the Master Acro instructional tutorial series.
2017 – 7th place in the Red Bull X-Alps adventure race
2014-2018 – Paramotor air-shows during all stops of the Red Bull Air-Race World Championship series.
2014 – Setting Guinness World Record in "the most consecutive tandem paraglider infinity tumbles" with 140 revolutions in Argentina, La Cumbre. Passenger: Squash Falconer.
2014 – Signing sponsorship contract with Ozone Paragliders
2012 – Suffered serious accident in Zermatt that nearly took my life...
2011 & 2012 – 1st place in the Acrobatics World Ranking.
2011 – 304 km: new Chilean open distance record and personal best.
2011 – Overall Acrobatics World Cup Champion in solo category.
2011 – Overall Acrobatics World Cup Champion in synchro category.
2011 – Inventing new acro maneuvers: 'Booster', 'Joker', 'Cowboy', 'Bull-Ride'.
2011 – The only pilot in the world who can perform all existing acro tricks.
2010 – Performer of the first ever 'Infinity Tumbling' on a tandem paraglider
together with co-pilot Gábor Kézi. 113 hours of worldwide television time!
2010 – The world's first commercial 'Infinity' tandem flights with passengers.
2010 – Overall Acrobatics Vice-World Cup Champion in solo category.
2010 – Inventing new acro maneuvers: 'Esfera' and 'Cork-Screw'.
2010 – Release of the award winning film, 'Play Gravity 2 - the other side'
2009 – 8th place on the Red Bull X-Alps competition, known as the world's
roughest adventure race: by only hiking and flying from Salzburg to Monaco.
2009 – Release of the award winning film, 'Adrenaline and Turbulence - a champion's story'
2008 – 5 new national Hungarian cross country (distance flying) records.
2007 – Overall Acrobatics World Cup Champion in solo category.
2007 – Overall Acrobatics Vice World Cup Champion in synchro category.
2007 – Inventing new acro maneuver connection: 'Misty to Helico'.
2006 – The 4th person in the world to learn the 'Infinity Tumbling' maneuver.
2006 – Release of the justACRO.com website, the biggest community
and informative portal of the paragliding acrobatics scene.
2006 – Acrobatic World Championship 7th place solo, 4th place synchro.
2005 – Participation in the first international acro competition.
2001 – The first flight with a paraglider.